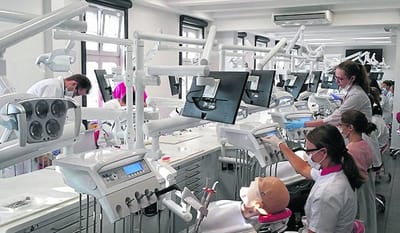 School of Medicine with the Division of Dentistry in Zabrze offers a 5-year DDS (Doctor of Dental Surgery) program taught in English for high school/secondary school graduates (both Polish citizens and foreigners). The school is located in Zabrze in the Silesia region, only 20 minutes away from Katowice.
The studies last 10 semesters and are carried out in theoretical, pre-clinical and clinical subjects. The study plan also accounts for apprenticeships during the holiday season.
Classes are held in the form of lectures, seminars and exercises, including practical exercises in laboratories and workshops of specialized education under the supervision of the lecturers and assistants. Lectures and exercises take place in very well-prepared lecture halls and facilities with modern teaching methods and multimedia equipment.
The program of the first two years includes education in the field of morphological sciences, the scientific basics of medicine, subjects that broaden humanistic knowledge, as well as preclinical sciences. The education during first years of studies should also provide fundamental knowledge for more specialized and advanced subjects. The program of the 3rd and 4th year of studies, apart from continuing education in the field of preclinical sciences, includes clinical education in the field of relevant subjects. During the fifth year of study, practical clinical teaching takes place. It is organized in the clinics and institutes of the University and covers:
conservative dentistry
prosthodontics
dental surgery
paediatric dentistry
periodontal and mucous membrane diseases
maxillofacial surgery
orthodontics
gerostomatology
comprehensive dentistry at the developmental age
comprehensive dentistry in adulthood
To complete each year of studies, it is necessary to undergo the following program internships:
internships in the organization of health care,
medical internships (general surgery, internal medicine or maxillofacial surgery),
internships in the field of doctor-dentist assistance
dental-medical practices in the dental office.
Graduates receive a diploma and professional title of dentist. In order to obtain the right to practice the profession of a dentist in Poland, it is necessary to pass the Medical-Dental Final Examination (LDEK) and complete a one-year internship in a Polish public or private dental institution.
Our graduates have basic knowledge in the field of medicine and natural sciences and advanced knowledge of dentistry. They are prepared to conduct professional dental care, plan, implement and evaluate preventive and curative treatment in the field of health promotion and health education. Our graduates are prepared to work in public and private health care facilities, work in scientific and research institutes and research and development centers, as well as to conduct the practice of a dentist- after obtaining the appropriate licenses.
The tuition fee is 6.000 EUR per semester (12.000 EUR per year)